---
A major media company is currently test marketing our putters to the U.S. west coast through the following Pendulum Balanced Putters Infomercial...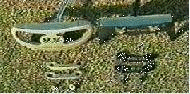 Putting. A fundamental component of every successful golf game. And one of the most frustrating.
So what makes Pendulum Balanced Putters different?
Engineering. They're designed to accommodate the subtle changes that make every golfer's style unique. How?
With the patented twin "U" weights that let you adjust the putter's balance: heel, toe, or center weight!
Pushing your putts? Adjust the weights toward the heel.
Pulling them? Move the weight to the toe.
Conforming to USGA Rules of Golf, the Pendulum Balanced Putter is a more forgiving club - one that corrects habitual putting errors.
It's available in two styles, the black shaft Sigma with a direct-response feel, and the chrome shaft Theta, with a softer response.
The stainless steel putter faces have a 3 degree loft. and are computer milled to ensure the face flatness.
Why wait? Sink more putts each and every round, with a Pendulum Balanced Putter!

Return to the TOP
---
---
Home

        E-mail: <sales@greengrassgolf.com>
    Snail mail: Green Grass Golf Corp.
                282 Newbridge Road,
                Hicksville, NY 11801
         Voice: 516-935-6722 xtn:10
           FAX: 516-935-7064

---
| Home | Free Putter | Sneaky Long® Driver | Sneaky Long® II Driver |
| KETS® Iron | Pedulumn Balanced Putters | Pro Shop | Golf Exhibits |
| Media Group Infomercial | Tricom Sports Time Infomercial |
| What other people say? | Distributor List | Links to other Golf Sites | E-mail |

---
Copyright © 1995-2002 Green Grass Golf Corp. All rights Reserved.